Leading the Vision of GIS and Storm Water Solutions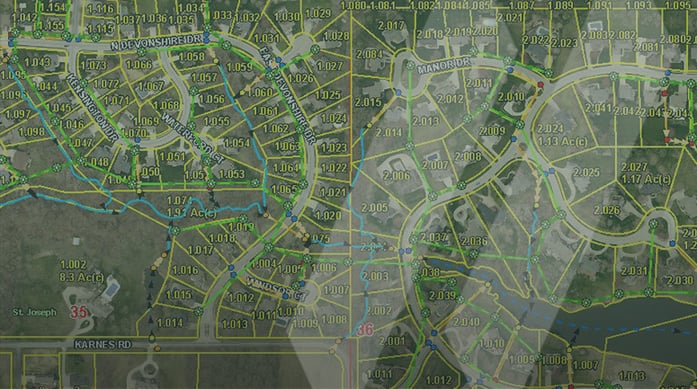 Where it all Began
The Pony Express was a mail service that used relays of horse-mounted riders originating in St. Joseph, Missouri, for mail delivery to California. The Pony Express reduced the travel time for messages between the east and west coasts to about ten days. It became the most direct means of sharing news before the first transcontinental telegraph was established in 1861. The Pony Express only existed for about 18 months because the effective use of new technology changed everything.
In that same spirit, the City of St. Joseph needed some ingenuity to inventory its combined sanitary and storm sewer infrastructure in 2008. The City wanted to implement an effective storm water management system to assess its current storm water infrastructure, mitigate flood risks, and support cleaner waterways for the community. SAM's Geographic Information Systems (GIS) team was prepared to deliver the results by applying modern digital technology.
The City officials recognized that a GIS-based approach was the optimal solution for their envisioned storm water management system. SAM promptly initiated consulting efforts to meet the system-wide needs for the City containing a population of 80,000. SAM planned a program that would provide system training and ongoing support to ensure the long-term goals were achieved.
Getting Started
What initially began as a condition-based inspection evolved into mapping the entire sanitary and storm sewer system. Utilizing GPS instruments, SAM's GIS team ultimately designed and delivered a spatially accurate geodatabase, with the supporting network connectivity, along with the supporting attributes. Afterward, our GIS professionals assisted the City's utility department in developing reports and maintenance processes to demonstrate compliance with federal consent from the Environmental Protection Agency (EPA).
The City has now adopted the GIS database to store and manage all its infrastructure information, ranging from planning and zoning to mapping the utility infrastructure for the street department. Our team has provided expert support in managing the intricate data layers and coordinating the various inspection and mapping programs. As a result, SAM was awarded a Master Service Agreement (MSA) with the City of St. Joseph.
Ongoing Work and Strengthening Relationships
The MSA has continued with an ongoing five-year program, introducing new opportunities and critical tasks as our partnership with the City has evolved. The value of a GIS solution to support a City-wide enterprise system has been a great success. Once they realized the power of serving spatial data across several departments, supporting multiple engineering and planning functions, adaptation quickly took off. Maps and spatial analysis for decision support could be generated, and each stakeholder could easily maintain the GIS system layers.
"This is one of the first projects I ever worked on at SAM back when I was in the field," said now Senior Project Manager, Ethan Herbek. The City of St. Joseph is an incredible success story for SAM's GIS solutions, and it was a vision established nearly 15 years ago that we're still fortunate to be a part of today. The City has GIS embedded in many of its daily functions, including work order management, utility inspections, community development, and engagement."
Today, SAM continues to host and manage their web GIS site through our proprietary technology, SAM Integrity™, offering additional support and program maintenance. Unique to SAM, we quickly deploy subject matter experts to provide on-site consulting and over-the-phone support. We have found that using our implementation crews on-site is most effective in demonstrating the value of the resources at play and offers more inherent value to our clients.
Our partnership and contributions to the City of St. Joseph continue to evolve to this day. SAM recently collected spatial data utilizing mobile mapping technology of their central business district. The LiDAR and imagery were used for a sidewalk continuation program that helped the City document site conditions for grant applications. Currently, we are working on a new task order where we will inspect and re-analyze 25% of their sewer manholes annually.
Visit our website to learn more about SAM's GIS mapping and data development capabilities or how our experts can help create or manage your GIS database.