How Advanced GIS Technology is Driving Next Generation 9-1-1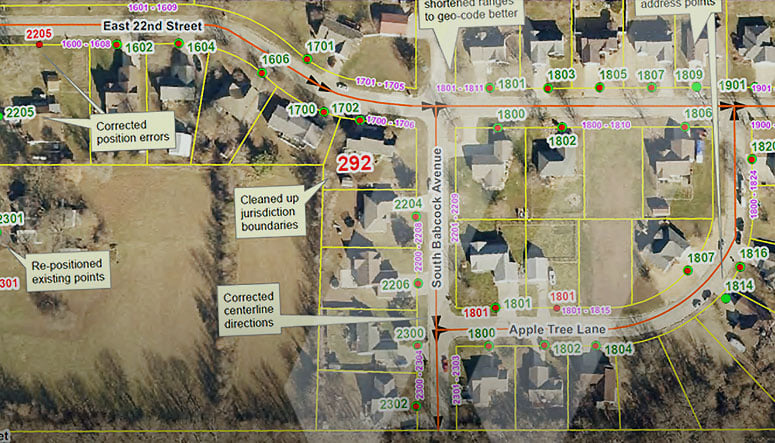 All across the country, local governments are transitioning from outdated, analog E-911 database systems to digital Next Generation 9-1-1 (NG9-1-1). In early 2021, the Missouri 911 Service Board initiated a Statewide GIS Project to update all their Public Safety Answering Points (PSAPs) and make them NG9-1-1 compatible by the end of the year. PSAPs have since been working with county governments to oversee the collection of the GIS data needed. Pettis County, Missouri, turned to SAM for this critical task.
Pettis County GIS Director James Theisen said, "SAM did an exceptional job updating our existing E-911 map data to eventually be migrated to the NG9-1-1 platform and provided experienced field personnel. Pettis County is extremely satisfied in the professionalism and timeliness of the NG9-1-1 mapping services provided by SAM."
Sending the correct location to first responders when someone calls 9-1-1 can be the difference between time saved and a tragedy. NG9-1-1 requires the use of at least five layers of geographic information system (GIS) data – Road Centerlines, Site/Structure Address Points, PSAP Boundary, Emergency Services Boundary, and Provisioning Boundaries. This data enables emergency dispatch staff to see a map with location and essential information such as the nearest access point for emergency responders as soon as someone dials 9-1-1. Our team understood the importance of this responsibility and drew on their significant GIS experience and knowledge of NG9-1-1 to validate approximately 22,000 individual addresses within Pettis County. Thanks to this verification process, Pettis County was able to correctly assign addresses for residential homes, commercial buildings, apartment complexes, trailer courts, and recreational buildings.
We sent a two-person field crew to compare the addresses in the existing 9-1-1 database to what was physically present when our crew visually inspected the location. To do this, our crew used an "offline" ArcGIS Collector app to access a custom domain-based database with the 9-1-1 Address Point GIS data layer. This app allowed our team to efficiently reference the existing 9-1-1 Address Point data on a laptop while on location and contributed to the overall quality control for the address verification process. After the field verification process was complete, SAM provided a detailed list to the county of provisional "new" addresses for locations that, upon inspection, did not conform to the Missouri 9-1-1 data standards.
In addition to address verification, SAM also performed a direct comparison of the county's existing 9-1-1 Road Centerline data with their Master Street Address Guide (MSAG) database. The MSAG is a database that state or municipal authorities keep, containing all streets and addresses in a given location for emergency services to use. Our teams also drew on existing 9-1-1 addresses and 2020 aerial photography to supplement the MSAG for 9-1-1 road verification.
After the field data collection, a SAM GIS Specialist back in the office cleaned up existing 9-1-1 roads and Address Point data to conform to the Missouri 9-1-1 data standards. 9-1-1 roads were segmented at intersections, emergency service boundaries, and provisioning boundaries for jurisdictional purposes when delivering the data to Pettis County. See below for a visual example of the data collected.
SAM is proud to have played a role in this vital transition to NG9-1-1. Residents of Pettis County can rest assured that when they dial 9-1-1, first responders will be knocking on the right door thanks to the new and accurate NG9-1-1 data.
Visit our GIS webpage to learn more about all of SAM's GIS capabilities. You can also read more on some of our successful past NG9-1-1 projects across the country in places like Doniphan County, Kansas, and Harrison County, Missouri.