GIS Updates and Upgrades for Jackson County, GA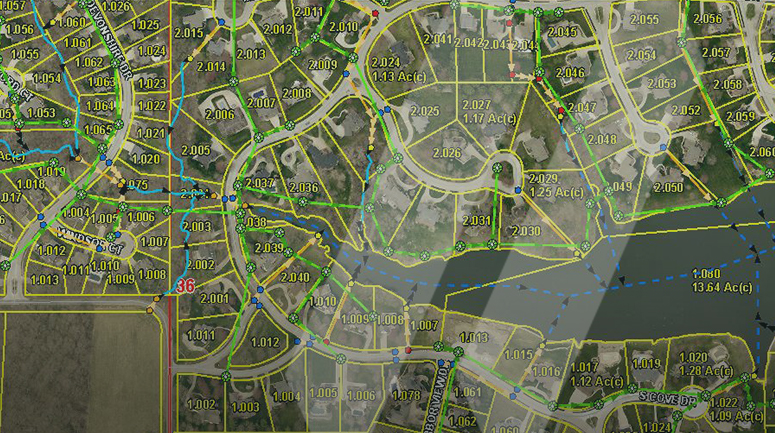 Jackson County, Georgia, has been committed to the use of Geographic Information Systems (GIS) to improve operations and decision-making for a long time. It formed a dedicated GIS Department in 2007 to support other county departments, including Tax Assessors, Planning, E911, Sheriff, and Environmental Health. They also work closely with the cities within the County as well as the Jackson County Water and Sewer Authority. With GIS being such an integral part of daily operations, any changes or updates are made with great care.
Recently, Jackson County GIS decided it was time to implement some of Esri's newest applications, including ArcGIS Pro and ArcGIS Hub, to improve its ability to meet the demand for GIS products and to replace retiring applications. With the increasing reliance on GIS, Joel Logan, GIS Manager for the County, said, "We need to cut back on the amount of staff time spent on data and map requests while also making it easier for the general public to find and use our data." They also needed to implement these new solutions as seamlessly as possible with minimum impact on daily production.
They turned to SAM to assist them with this effort. Joel said SAM was selected because "of the vast experience and know-how that SAM has for the needs of local government GIS." He goes on to say, "SAM makes it easier to keep our current services and technology up to date from the vast amount of knowledge their staff possess."
The first step of this project was to meet with County GIS staff and review some of their current data and file management practices. SAM ArcGIS Pro Subject Matter Expert (SME), Tripp Corbin, provided recommendations on how to update those best practices to support the new project format used by ArcGIS Pro. He also conducted an onsite two-day "Migrating to ArcGIS Pro" class for County GIS staff and GIS users from the local cities and utility authorities. This training allowed County and City staff to hit the ground running with the new ArcGIS Pro application.
The next step was implementing a new ArcGIS Hub-based public GIS data portal. This portal can be easily accessed at https://jackson-county-ga-open-data-portal-jacksoncountyga.hub.arcgis.com/.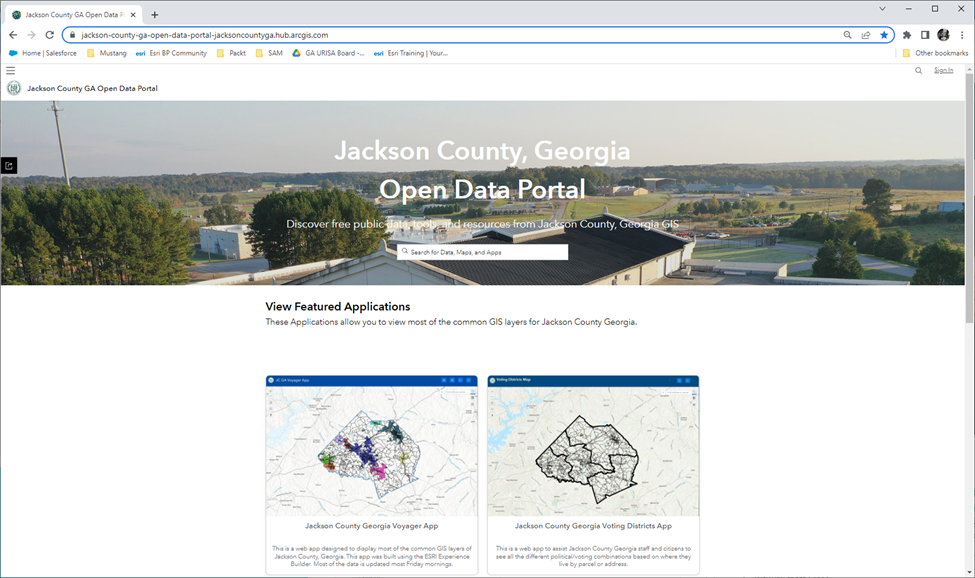 The portal provides easy access to many GIS data layers and applications created and maintained by the County GIS staff, such as County Limits, Tax Parcels, Voting Districts, Roads, Fire Districts, and more. Making this GIS spatial data and applications available to the public, elected officials, and staff is expected to reduce the amount of time the County's GIS staff spends to responding to requests by as much as 40%. This will free up time they can use to create new data layers, perform analysis, develop more applications, and create new maps needed to improve operations within the County.
SAM Project Manager, Ryan Schieber, and Solutions Architect, Chase Young, performed the initial implementation of ArcGIS Hub. They worked closely with the County staff on the overall layout and styling of the new site as well as migrating GIS applications and data layers to the site. Ryan Schieber said, "Joel Logan and the rest of the Jackson County GIS team have been a true pleasure to work with. They had clear goals they wanted to achieve and a very good understanding of the capabilities of the platform".
SAM continues to provide ongoing support and training for Jackson County, as needed. Joel said, "We are very happy with what SAM has helped us accomplish on these important projects. We look forward to continuing to work with SAM as our GIS expands."
SAM offers complimentary GIS products and services to enhance local government operations. LiDAR for planimetric and topographic mapping, orthophotos, oblique photography, subsurface utility mapping, asset inventory, and inspection utilizing mobile mapping and field services can improve spatial integrity and add significant value to evolving GIS programs. Visit our website to learn more about SAM's GIS mapping and data development capabilities or how our experts can help create and manage your GIS database.