Tracking and Enhancing Quality with SAM Field™
| Gregory Cleveland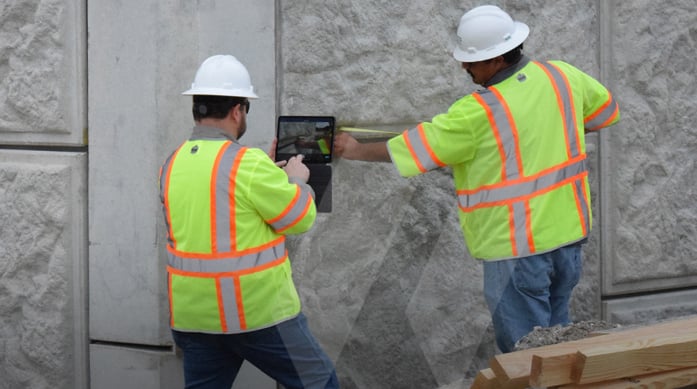 Conducting quality inspection is an essential element of any infrastructure project—though documenting these efforts is a historically tedious and laborious task. Finding project-related specifications, plan sheets, and other project-specific owner requirements during these inspections typically requires scrolling through hundreds of printed pages. Field data collection to document these inspections is driven by records that are independent of other inspectors, either paper-based or, more recently, some digital entry.
However, even with tablets and other mobile devices, inspectors still typically take notes in the field that must then be entered into another system for processing, review, and sharing. Technology has come a long way and inspection documentation and project tracking doesn't have to be a challenge for the owner, the inspector, or even the contractor.
We've found that with a little ingenuity, like a mobile app and the cloud, we can provide our staff and the owner with real-time and, more importantly, reliable insights into construction quality. Add intelligence, and these apps become so much more.
The goal of a cloud-based, paperless approach to inspection is to not just document the work— but to produce a database for metric reporting and predictive analytics. The idea is to use the data to automatically answer common and, perhaps, uncommon questions. It's real-time transparency about what's happening on any given day on a project, tracking construction documentation, including installed quantities of work to support contractor payments as well as conformance/non-conformance items that drive project quality.
Here's how a field-based inspection app, like SAM Field, works.
As the Owner Verification (OV) firm on a large design/build multi-level interchange project in South Texas, our job is to validate the various parts of the project per the Owner Verification Testing and Inspection Plan (OVTIP). The OVTIP, a 300-page document, outlines the means, methods, processes, and procedures by which we validate acceptance decisions. We decided not to carry that document around every day that we're in the field.
Instead, we programmed the entire document into our SAM Field app using geospatially referenced locations along with drop-down menus to help facilitate our oversight inspections. During the inspection, our staff is presented with oversight requirements, a place to record their observations, takes photos, documents answers to questions, records percent complete, and also checks whether a non-conformance report (NCR) is required. When the inspector submits the data, an Oversight Daily Report is automatically generated for the owner. To take this one step further, SAM has created web-based dashboards that provide metrics reporting with all data collected on the project with oversight conformance trends.
Critical to the success of this purpose-built app is that the database is built with owner forms.
We all know that technology is essential to the infrastructure industry, and if we're going to build with quality, timeliness, budget, and real-time transparency, then collaborative communication tools that offer observations are a critical piece to a project's overall success.
Check out how the purpose-built SAM application, SAM Field™, can increase inspection efficiency, reduce paper-based workflows, support efficient field data gathering, improve data visualization and provide critical insight for transparent decisions to the client.
Gregory Cleveland
Greg Cleveland joined SAM in 2014 and has 25 years of engineering, construction, and project management experience on traditional, design-build, and public-private partnership (P3) projects throughout Texas.
View Profile