SAM Vantage™: Redefining Visualization and Analysis Above and Belowground
| Adam Long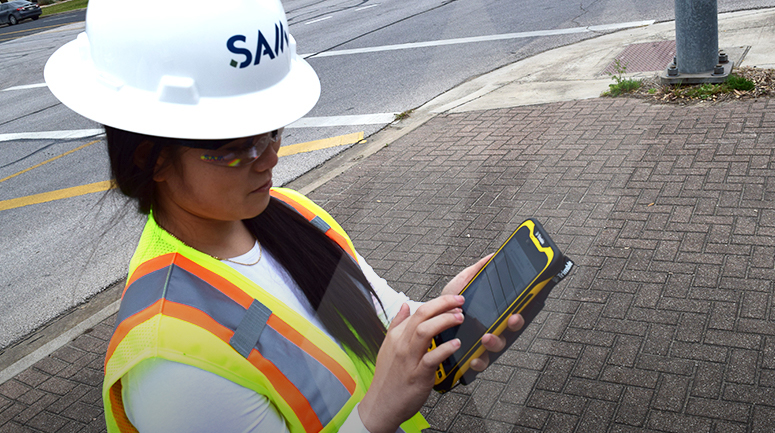 Collecting and managing accurate utility location data to support engineering and infrastructure projects has long been a challenge for public and private entities. Common practice is to have a surveyor collect the utility data from 2D planimetric maps with electronic depth measurements (EDM), convert depth to elevations and manually combine that data with existing condition surface models.
It's a time-consuming and sometimes costly, complex process that results in disconnected data that is difficult to visualize, evaluate and then share with stakeholders.
In today's 3D data gathering and modeling solutions, your above and below ground conditions can take on a rich, visual Google Earth-like appeal with a little help from high-resolution LiDAR surface conditions and 3D SUE models.
Combining LiDAR-enabled existing surface condition models and 3D SUE deliverables, using proprietary technology, SAM VantageTM, provides a design team and other stakeholders from every discipline visual context of the entire project area all at once.
Once you have the hidden underground utilities modeled and project designs added, the complete datasets can be visualized by engineers, contractors, and others in the office with full context and with reduced trips and time traveling to the field. It eliminates the need to wait on one-call again to re-paint an area or wait for survey teams to stake out proposed utilities to visualize your designs in a true real-world context.
3D basemap modeling with existing utilities can help you provide your design team and stakeholders with a context-rich visual understanding of existing conditions above and below the earth's surface for horizontal and vertical conflict resolution, additional context for quality control, and allows you to complete the project on-time since productivity gains are readily gathered by all team members interpreting the data correctly the first time—and better yet, the larger the project, the larger the productivity gains!
Additionally, these datasets can be visualized in the field using augmented reality (AR) platforms like SiteVision (Trimble) or vGIS. Positional awareness of these AR systems and the modeled datasets provide the user the ability to visualize what's underground and proposed to be underground without painted lines. Further, combined 3D LiDAR and imagery datasets allow QC abilities and productivity improvements for each stakeholder at their desktop.
Web-based collaboration tools available such as Trimble Clarity or Bentley's 3DM products make the fused above and belowground base mapping product visually appealing and easy to understand even to those stakeholders that are not experienced in visualizing scaled planimetric data.
More information:
Watch our Innovation Series video on SAM VantageTM to learn more about the fusion of LiDAR Surface Models and 3D SUE.
For case studies supporting subsurface utility engineering productivity improvements from the U.S. Department of Transportation Federal Highway Administration see here.
Adam Long
Adam Long joined SAM in 2011 as the Chief Technology Officer. He has over 30 years of diverse experience practicing engineering, surveying, and information technology, which he used to create the Applied Technology department at SAM.
View Profile