Realizing the Lifecycle Value of Remotely Sensed Data for Renewable Energy Projects
| Eb Laing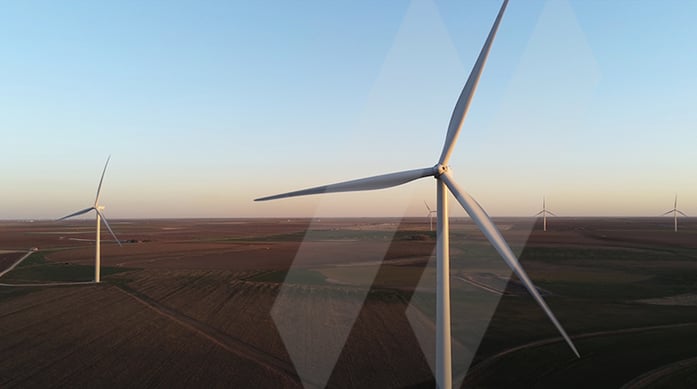 Remotely sensed data is an integral part of every renewable energy project. Some of the most widely used and cost-effective methods of remote sensing in the renewable energy industry are aerial imagery and LiDAR acquired from sensors attached to manned and unmanned aircraft.
From planning to engineering and even into the construction phase of a renewable project, remotely sensed data is essential to ensuring accurate and timely decision-making.
And yet, aerial imagery and data is often put on the shelf immediately after its initial purpose is resolved, or, in other instances, it is gathered and regathered in every phase (e.g., planning, engineering design, construction, maintenance) of a renewable energy development project.
There are considerable cost and time savings to be realized when renewable developers take a lifecycle approach to aerial data acquisition and consider upfront all of the data that will be needed for decision making across all phases of a development project.
The Investment
Wind and solar energy developers depend on remotely sensed data to determine whether to lease vast stretches of land for potential projects. The same data can also be used as a basis for making the informed decisions on local government, environmental, and other factors in order to acquire permits for development of these projects.
During the conceptual design phase, planners will use aerial imagery to locate wind and solar measuring equipment to determine whether the general area is suitable and a good resource for wind and sunlight for long periods of time.
During the developmental phase, aerial LiDAR and aerial imagery are collected to determine the existing topography of the leased land as a basis for engineering design and building of a solar or wind site. In some cases, determining what the environmental impacts, like culturally sensitive areas, wetlands, water bodies, and habitats for protected species to the leased land, also require Near Infra-Red (NIR) or Colored Infra-Red (CIR) imagery collection during the aerial LiDAR and aerial imagery acquisition mission. NIR and/or CIR imagery also helps determine the extent of drain tiles and shallow buried irrigation lines on agriculture leased properties to be used for development.
Survey and engineering consultants rely heavily on aerial imagery to make cost-effective and expedited decisions to develop site plans, ALTA Surveys, micro-siting, roadway, and utility crossing agreements.
By taking a lifecycle approach, much of the needed data can be collected in the conceptual data-gathering phase saving the time and costs associated with sending a team of surveyors and engineers back to a wind project site multiple times to find items that were missed during the initial micro-siting effort.
Enterprise Access
With the immense demand for renewable energy from a variety of investors, including commercial and industrial customers and public entities, the industry has realized a number of mergers and acquisitions in the renewable energy industry.
In order for the acquired project to take advantage of the tax credits, a developer, through due diligence, must make certain the project being acquired is devoid of any form of construction activity before financial closing. Once again, high-definition imagery can help, giving tax professionals more information to make an effective determination.
While new data has to be collected during construction, the conceptual aerial imagery still has value.
In the past, developers relied on weekly and monthly phone calls or written updates from construction companies for the progress on their projects. Thanks to innovative remote sensing techniques, wind, and solar developers have the opportunity to monitor their projects themselves during the construction phase of development on a periodic basis.
Aerial imagery also supports wind and solar developers in making expedited and accurate valuations on crop damage after construction. Lately, after some of these solar energy facilities are energized, as-built data is collected by unmanned aerial vehicles (drones) fitted with cameras, aerial LiDAR, and thermal sensors. Not only do these drones acquire as-built data, but the fitted thermal sensors help in determining whether there are dead solar cells on the installed PV solar panels.
During project operation, remote sensing techniques are used to support operations and maintenance of these wind and solar facilities. Climbing wind turbine towers and blades for inspection purposes are things of the past. Now drones are predominantly used for inspection of operating wind turbines and solar panels for maintenance purposes.
In summary, your high definition remotely sensed data gathered during the conceptual phase and throughout engineering and construction has value across your enterprise. The increased emphasis on climate change that is likely to occur during the Biden Administration will lead to a greater focus on net-zero carbon emissions and renewable energy.
Many renewable energy companies are looking to reduce development costs and exploring ways to better leverage quality data for engineering design and to keep construction costs within budget. Capturing and utilizing remotely sensed data from the inception of a renewable energy project through engineering design is one of the best decisions a developer can make to save them from unnecessary expenses. To make the best use of investment and tax credits, take advantage of your highly accurate remotely sensed data across a renewable energy project's lifecycle.
Eb Laing
Ebenezer "Eb" Laing joined SAM in 2014 and has over 20 years of experience providing geospatial services to support projects in the Transportation, Energy, and Land Development industries.
View Profile