Combatting the Talent Shortage with Apprenticeship Programs
| Kelli Howard
The workforce today faces a significant challenge in hiring experienced and skilled workers. While there may be plenty of people looking for jobs, the term "talent shortage" refers to the disparity between the skill set employers need and what candidates have to offer.
The talent shortage is influenced by various factors:
Demographic shifts: One of the most significant factors contributing to the talent shortage is demographic shifts. The baby boomer generation has constituted a substantial portion of the workforce for the past four decades, and their retirement has established a need to replace them with qualified workers. This generational transition creates a gap in the labor force, making it challenging to fill critical roles.


Low labor participation rates: Low labor participation rates refer to the percentage of the working-age population employed, or actively seeking employment. Fewer workers are available to fill open positions when labor participation rates are low. This exacerbates the talent shortage, making it more difficult for companies to find suitable candidates.


Declining birth rates: Declining birth rates also contribute to the talent shortage. When there is a decrease in the number of babies born each year, it creates a gap in the labor force, resulting in fewer workers available to replace those who are retiring. Despite a slight increase in birth rates in 2021, a recent study by Korn Ferry predicts that there will be a global talent shortage of over 85 million people by 2030.


Education and training: Insufficient funding for education and training programs limits the number of individuals who can acquire the necessary skills for in-demand jobs. This mismatch between the skills employers require and those possessed by workers contributes to the talent shortage.
The talent shortage we face is further amplified by the fact that the average age of a licensed land surveyor is 60 years old. Werner Penk, president of Korn Ferry's Global Technology Market practice, emphasizes the responsibility falling on companies to train workers and encourage governments to reconsider education programs, thereby generating the talent pipelines the industry will require.
So, one question remains: How can we effectively address this issue? Apprenticeship programs.
Apprenticeship programs emerge as a particularly effective solution to combat the talent shortage, offering a means to train and develop new talent in direct alignment with what the organization needs. They provide a structured and supportive environment for individuals to develop the skills and knowledge needed to succeed in a particular industry. Additionally, these opportunities offer a way for companies to identify and cultivate talent within their organizations, helping to build a pipeline of skilled workers for the future.
Here are some benefits of apprenticeships and how we'll evaluate the program's success:
Apprentices gain practical skills: The apprenticeship enables individuals to acquire practical skills and experience in the geomatics and geospatial industry. The training has been customized to meet the specific requirements of the services and projects in this field. Throughout the program, apprentices will work with experienced professionals and gain hands-on experience in various tasks, including:
- Collecting angles and elevations used for construction and map making.
- Utilizing advanced technology and surveying equipment.
- Learning how to sketch drawings, read plans, and take notes.
-Developing drafting skills in AutoCAD and performing records research and quality control.


Attracts applicants: The apprenticeship program has the power to attract new talent, especially younger individuals seeking to begin or continue a career in a skilled trade. Full-time and paid apprenticeship opportunities can be a compelling point for job seekers. Offering this program demonstrates a commitment to training and development and fosters a dedication to learning.


Improves talent retention: Apprenticeships also allow current employees to advance in their careers by acquiring additional skills. We are committed to investing in our employees' skills and providing opportunities for growth and career advancement.


Addresses skills gaps: Skill gaps in the geomatics and geospatial industry can be a challenge, particularly when candidates lack the specific qualifications required for certain roles. Apprenticeship programs play a pivotal role in bridging these skill gaps. By providing targeted skill training, an apprenticeship program will help ensure that we have a competent workforce capable of accomplishing our business goals.
Apprenticeships helped build our country from its early beginning to today. Although the program primarily saw skilled trades, today, these programs thrive across a wide range of industries, from technology, healthcare, energy, and advanced manufacturing. The role of an apprentice is evolving to meet employers' and the workforce's needs, which helps meet demands in the labor market we are seeing.
At SAM, we are already offering a Geomatics Technician (Survey and Mapping) Apprenticeship. Our apprenticeship is a two-year program that offers on-the-job training, competitive hourly pay, and a Journeyman Surveyor Certification upon completion, certified by the U.S. Department of Labor. Completion of the program will allow employees to progress in their careers faster while obtaining the training and certifications needed for their roles. Employees can also gain college credit while in the program, thus reducing or even eliminating the burden of student loans.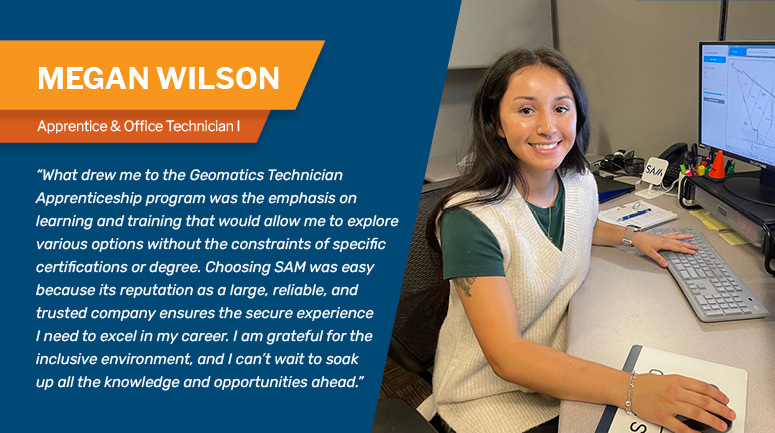 Surveyors are in demand like no other profession, and the talent shortage is a real problem affecting companies across the geospatial industry. But the good news is that there's a solution: Through apprenticeships, we can equip individuals with the skills and expertise they need to build successful careers and help drive economic growth for years to come. We're excited to see the positive impact our apprenticeship program will have on our employees and the industry as a whole.
To learn more and apply for our Geomatics Technician Apprenticeship program at SAM, visit our careers page.
Kelli Howard
Kelli joined SAM in 2012. She has over 16 years of experience in recruiting, with more than eight in the A/E/C industry. She leads the talent acquisition team, with a primary focus in attracting and retaining top talent.
View Profile